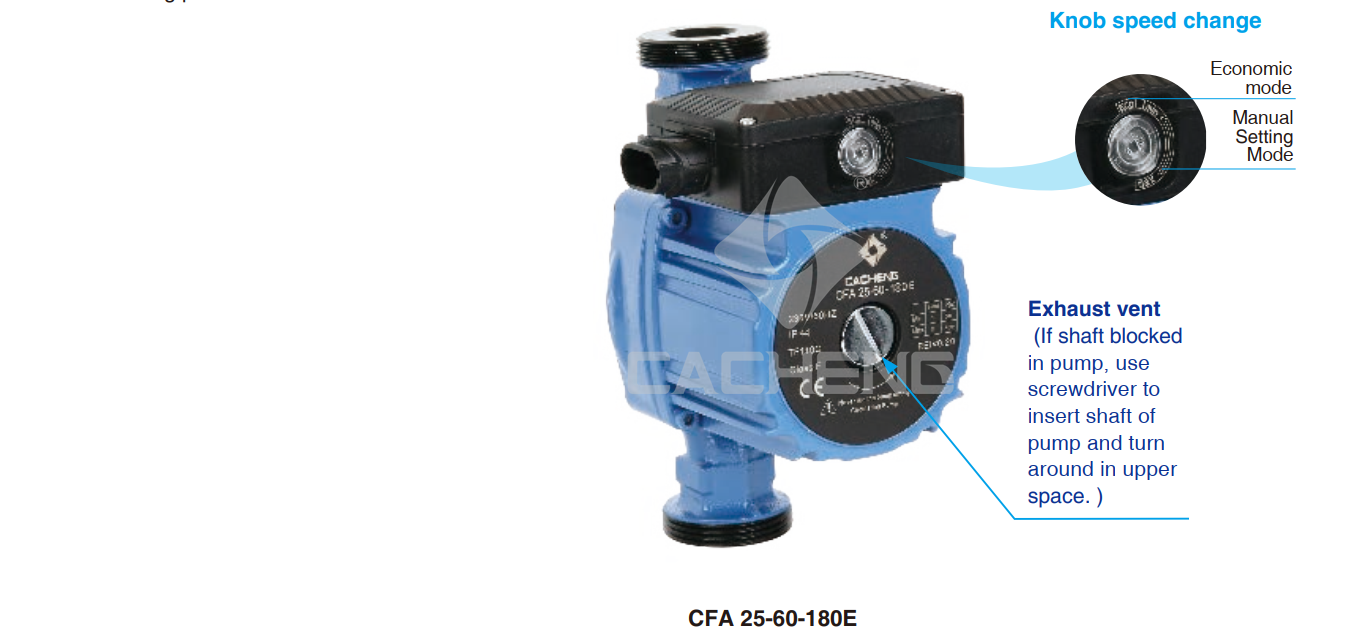 CFA pump is energy-optimised and A-labelled.
Level A is the best.
The installation of a CFA pump will reduce the power consumption considerably, reduce noise from
thermostatic valves and similar fittings, and improve the control of the system.
CFA pump offers a host of advantages:
Energy savings automatic control of the differential pressure.
Low-noise operation.
Safety built-in electrical and thermal protection of the pump.
New materials used.
Operating Conditions:
Liquid temperature from 2℃ to +110℃
Ambient temperature up to 40℃
Max. working pressure: 10bar
Construction Material:
Pump body: Cast Iron
Impeller: Plastic
Shaft: Ceramic
Bearings: Ceramic
Bearing plate: Stainless steel
Technical Data:
Rate of flow: up to 3.2 m3/h
Pressure head: 4m~6m
Control range: 5~45w
Installation length: 130 and 180mm
Thread connection: 1", 1½" and 2"
Protection class: IP44
Insulation class: F
Product Features:
Compact design
Manual start-up feature
Smooth running
Very low energy consumption
Air-vent screw
Convenient operation
Pre-mounted, screwable angle entry-plug
Automatic adjustment to pressure conditions
Application:
Heating, air-conditoining and industry systems like
Dual pipe system
Underfloor heating
Boiler / primary circuit
Storage charging circuit
Solar systems and heating pumps