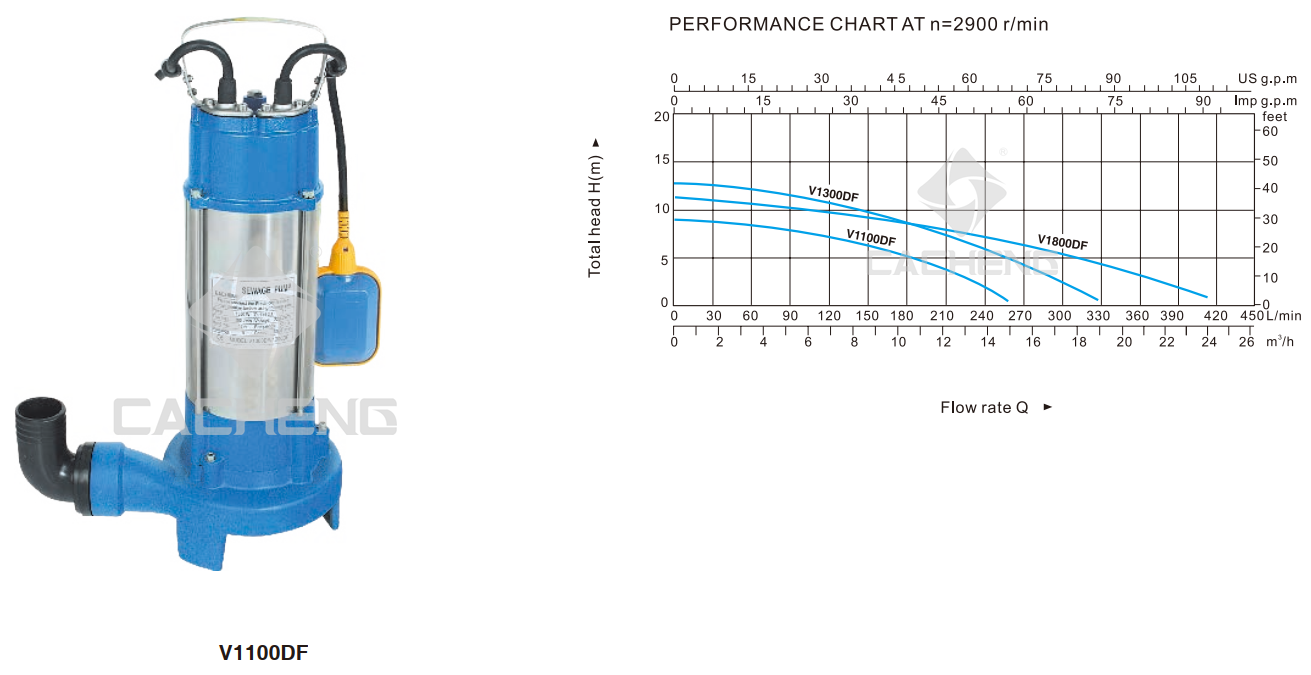 Operating Limits:
Max. Depth: 5m
Max. liquid temperature: 40℃
Max. ambient temperature: 40℃
Continuous duty
Motor:
Two-pole induction motor (n=2900 r/min)
Insulation class F
Protection IPX8
Single-phase motor with built-in thermal protector
Material:
Pump body:Cast Iron
Impeller:Cast Iron
Motor shaft:Stainless Steel
Mechanical Seal:Ceramic/Graphite
Application:
Sewage submersible pumps with cutting blades are ideal for sewage disposal. A high speed cutting system in the
pump inlet can efficiently cut off impurities containing long fiber and solids, and prevents impeller from clogging.
It is suitable for sewage disposal in public health, industrial and mining establishments, and families. A float switch
automatically turns the pump on/off according to the change of the liquid level. A protector in the motor automatically
shuts off the pump in case of overheating or over-current which ensures security and reliability even in an unfavorable
environment.
Dual seal and oil bath
"V"series pumps have ultimate motor proctection
with double mechanical seals,an additional lip
seal and oil bath.This enables the seals to work
reliably keeping water out of the motor.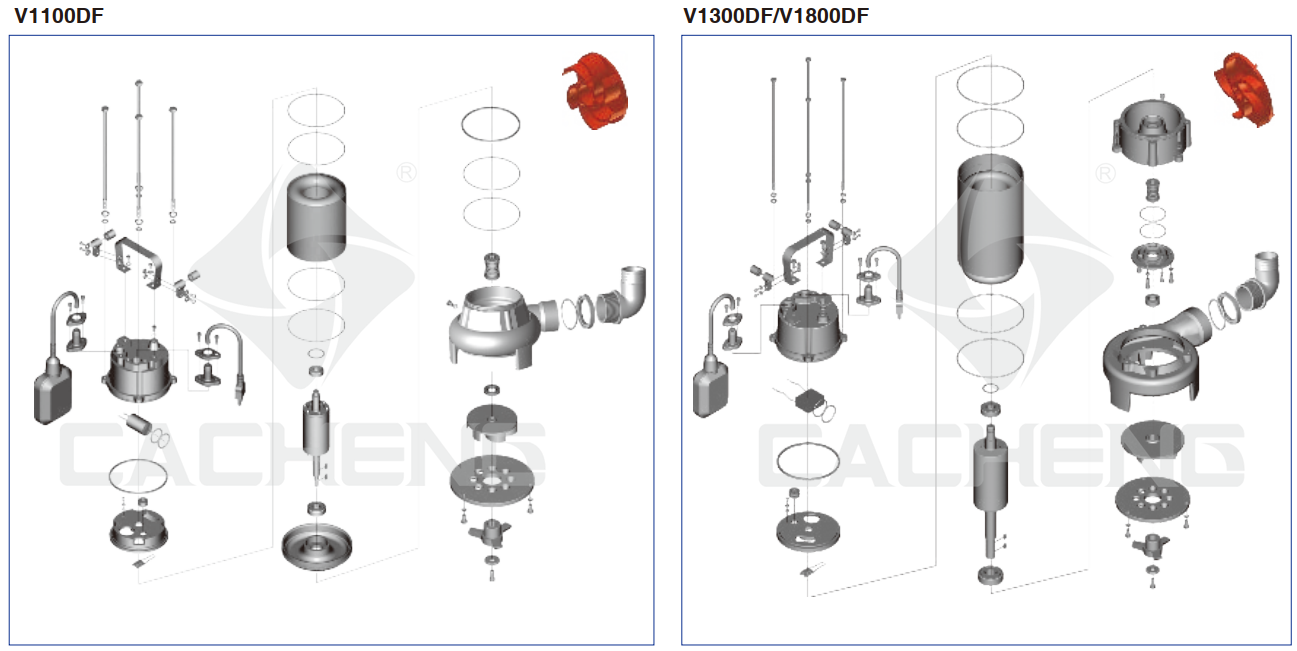 Operating Limits:
Max. Depth: 5m
Max. fluid temperature: 40℃
Max. passage of suspended solid body: Φ 30mm
Continuous duty
Motor:
Two-Pole induction motor (n=2900 r/min)
Insulation Class B
Protection IPX8
With capacitor and thermal overload protection
Material:
Pump body: Cast Iron
Impeller: Cast Iron, heavy-duty open impeller
Motor shaft: Stainless Steel
Mechanical seal: Silicon carbide / Graphite,
with oil barrier chamber and inner lip seal to protect
the seal in the event of dry running.
Application:
V submersible sewage grinder pumps are designed with a
grinder system which grinds solids into small pieces so that
they can be led away through pipes of a relatively small iameter.
V pumps are used in pressurized systems, e.g. in hilly areas,
and for similar applications.
Pumps are designed for pumping wastewater with discharge
from water closets.
Sewage from restaurants, hotels, camping sites, etc.
The compact design makes the pumps suitable for both
temporary and permanent installation. The pumps can be
installed on an auto-coupling system or stand freely on the
bottom of the pit.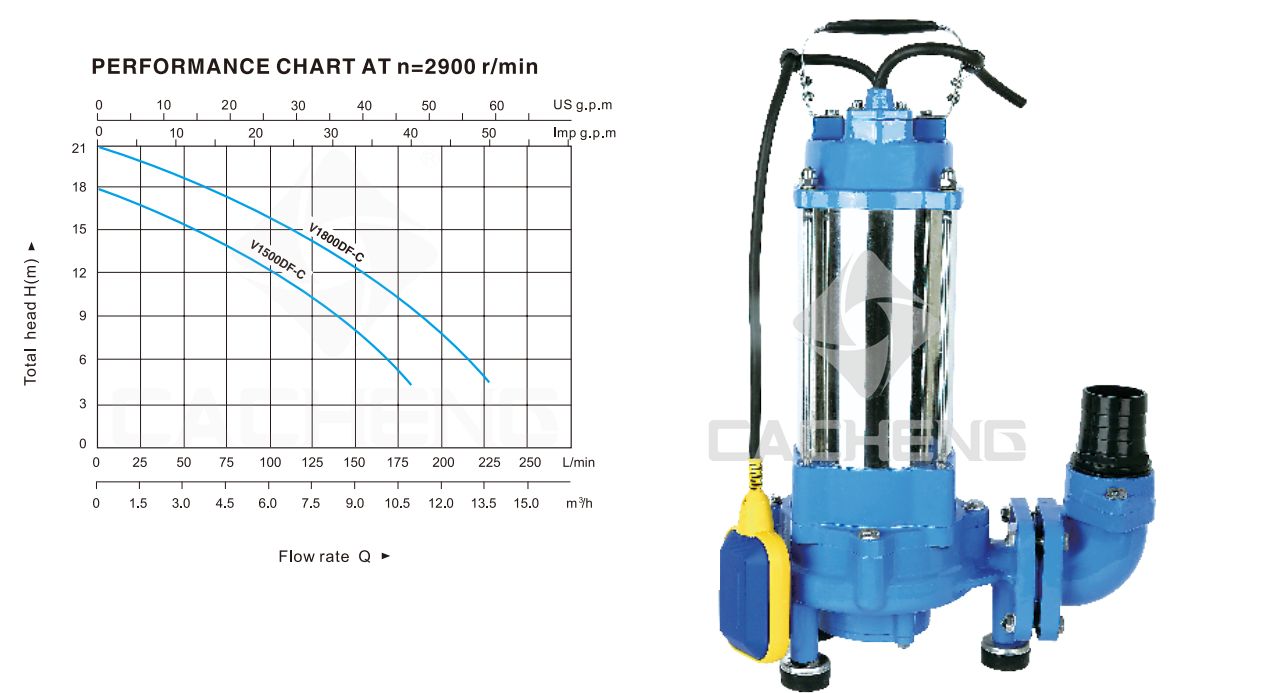 Operating Limits:
Max. Depth: 5m
Max. liquid temperature: 40℃
Max. ambient temperature: 40℃
Continuous duty
Motor:
Two-pole induction motor (n=2900r/min)
indulation class: B
Protection class: IPX8
With capacitor and thermal overload protection
Material:
Pump body: Stainless steel
Pump casing: Cast iron
Impeller: Cast iron
Motor shaft: Stainless steel
Mechanical seal: Silicon / Silicon+Ceramic / Graphite
Application:
Wastewater drainage in factories, construction sites and commercial facilities
Drainage system in municipal sewage treatment plants
Drainage station in residential quarters
Municipal projects
Methane pools and field irrigation in countryside